Overview: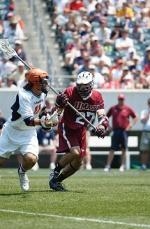 The Boston Local Organizing Committee welcomes the world's lacrosse community to Gillette Stadium for the 2008 NCAA Men's Lacrosse Championships May 24-26.
Championships weekend, which includes the Division I, II and III championships, will be hosted in New England for the first time. Previously, the Division I championship game was hosted by Brown University in 1976 and 1985.
The three-day event features championships in Divisions I, II and III, the only NCAA championship that involves all three divisions at one site. In addition to the actual lacrosse games, Gillette Stadium will be full of fan-oriented excitement including youth lacrosse clinics, interactive sponsor fan zones, and community-oriented initiatives.
The Boston Local Organizing Committee is comprised of Gillette Stadium, the Massachusetts Sports Partnership, the Greater Boston Convention and Visitors Bureau, Harvard University and the Eastern College Athletic Conference.



Tickets will be sold at four price points:



Club level:
$125 - SOLD OUT!
Field level sideline:
$90 - SOLD OUT!
Endzone and corners:
$80
Upper level:
$70
Seating Chart >>
Buy Now >>
Ticket prices are for five games and include parking for the three day event.
The NCAA Men's Lacrosse Championship involves five games played during Saturday, Sunday and Monday of Memorial Day weekend. The actual dates are May 24-26.
The schedule of the games is as follows:


Saturday, May 24:
Division I semifinal games (2)
Sunday, May 25:
Division III championship game and Division II championship game
Monday, May 26:
Division I championship game
The 2007 NCAA Men's Lacrosse Championships are being played at M&T Bank Stadium, Baltimore, Maryland, where an expected record crowd of 60,000 lacrosse fans from around the country will attend the event.

2009 NCAA Men's Lacrosse Championships
Gillette Stadium, along with the Massachusetts Sports Commission and Harvard University, has submitted its proposal to host the 2009 NCAA Men's Lacrosse Championships. After reviewing all submitted proposals, the NCAA Men's Lacrosse Committee will select venues for in-person presentations which will be conducted in August. A final decision is scheduled to be announced in October.